Our History in Flagstaff, AZ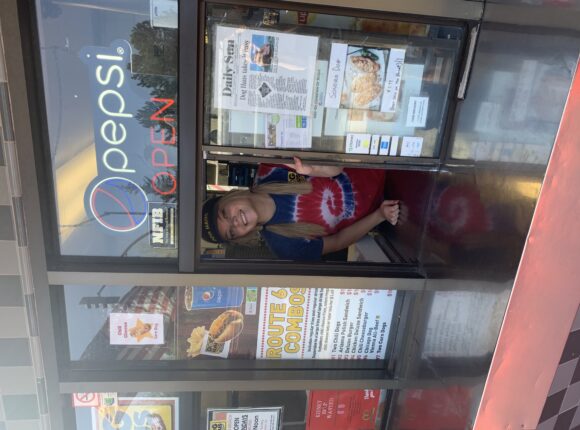 Award-Winning Food for Breakfast, Lunch and Dinner
Do you know why the Route 66 Dog Haus has won the Arizona Daily Sun's Best of Flagstaff award for 16 straight years for the best breakfast burrito and hot dog categories? We continually strive to provide only the best quality products and do what we can to create a diverse and unforgettable menu. We have many local favorites that get our many fans excited. Just a few that you may enjoy include:
Fried Baloney Sandwich: This local favorite provides a fascinating blend of tastes and is served on fresh bread with your choice of toppings. We promise that you've never had a baloney sandwich quite like this one.
Steak Sandwich: When you're ready for a delicious steak sandwich, come on down to Route 66 Dog Haus and order our fan-favorite steak sandwich. We use delicious rib-eye steak of the highest quality and will prepare it to your preference.
Pastrami: Do you love a thick pastrami sandwich with the freshest meat, the tastiest bread and heaps of delicious toppings? Then look no further! We pride ourselves on creating a pastrami sandwich that even your mother couldn't make. Don't forget our BLT option, either!
Hamburgers: Our team can prepare both single- and double-deluxe burgers with all the toppings and whatever extras you want. We carefully prepare each burger to suit your needs and only use the freshest and highest-quality beef.
We pride ourselves on never using microwaves when preparing our meals. All our food is cooked fresh and made to order, meaning you get only the highest quality. We also make sure our ingredients are only the freshest and work hard to be the specialty sandwich shop you deserve.
CALL NOW
Get a Taste of Route 66 Today
Come on down to learn more about why Route 66 Dog Haus has stayed open for over 50 years! You'll know us by our trademark A-frame shape and our specialty sandwich shop's signature sign. Walk on up, make an order and prepare to be stuffed with some of the best hand-made food in the area.
CONTACT US